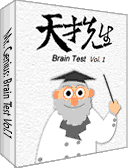 Requirements:
Pocket PC 2002, 2003,
WM5/WM6 Windows Mobile™ – based device with a StrongARM or Xscale processor,
minimum of 4MB RAM.
" Training brain is more easier than I thought!"


Training your brain on PocketPC!
Have you ever felt that your reaction capacity and cerebration are getting worse as you are getting older? In fact, these problems can be

prevented. This brain training game include 8 different intelligence tests. The questions include calculation, estimation, logic, and identification etc. You only need to spend about 10 minutes on this training test, and you may keep keen and sharp in thinking and reaction!

Game function features :
* Easy to learn for all ages!
* 8 different types of question omnifarious challenge.
* The score rank provides you the competition with other players.
.