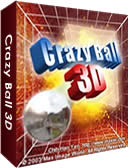 Requirements:
OS: PocketPC 2002, 2003, WM5, WM6
CPU: StrongARM
Storage: 1MB
RAM: 2 MB
"What an exciting game with such simple rules!
What my fingertips' thirsting for !"
" So easy but so great fun to play a PocketPC has !"


To win a 3D ball game !
Know why we call our bounce ball game the CrazyBall 3D Ball Game ?
It's not just because the game gives you more than all the fun a 3D ball game has. It makes you crazy about when you bouce the ball thru your pentip on the screen as if you catch and strike a crazy boucing ball from different angles, faster and faster, in our designed virtual reality bouce ball game !!
You may win the game as long as you could cleverly manage the crazy ball !!

Game function features :
* Three different grades of computer AI (Artificial Intelligence).
* Two kinds of game courses.
* Exciting virtual reality designing.
* Lively 3D effect.
.